The Network
CORPORATE BACKGROUND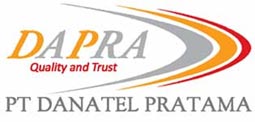 Established on December 17, 1991 with the name PT Pakar Graha, and then transformed into PT Danatel Pratama on June 11, 1992. PT Danatel Pratama started its business as the first distributor from Philips Communication, Security & Imaging for Indonesian area with CCTV as the main product. After Philips CSI purchased by BOSCH, PT Danatel Pratama became a distributor for BOSCH security system products in 1997.As well as being the sole distributor for the ESSER brand fire alarm products from Honeywell.
On its 20-year journey, PT Danatel Pratama is not only being a distributor but also providing several services in design, installation, contractor, and maintenance for security system. Nowadays PT Danatel Pratama has been cooperating with various renowned security system distributors, so that can provide a diversity of products to customers and adjust to their needs.
PT Danatel Pratama believes that a long term and a good relation with every customer is the key to achieve the success. Customer satisfaction is the first priority.